This week the UK's YouGov published the results of a poll where 44 per cent of British respondents said that the country should be proud of colonialism.
The poll comes ahead of the upcoming Oxford Union debate to decide the fate of a statue of British colonialist (murderer…racist…I could go on) Cecil Rhodes as a result of the "Rhodes Must Fall" campaign to have it removed. 59% of respondents thought that it should stay.
Whether or not you think the statue should stay or go (and there are strong arguments to leave it and have it re-labelled), what's more disturbing is the fact that there still exists within the public discourse, a narrative that seems to feel, as Rhodes said himself that "the more of the world we [English] inhabit, the better it is for the human race."
According to YouGov "British people are not generally ashamed of the former Empire or of our history of colonialism. Only 19% say the Empire was a bad thing and only 21% say we should regret historic colonialism."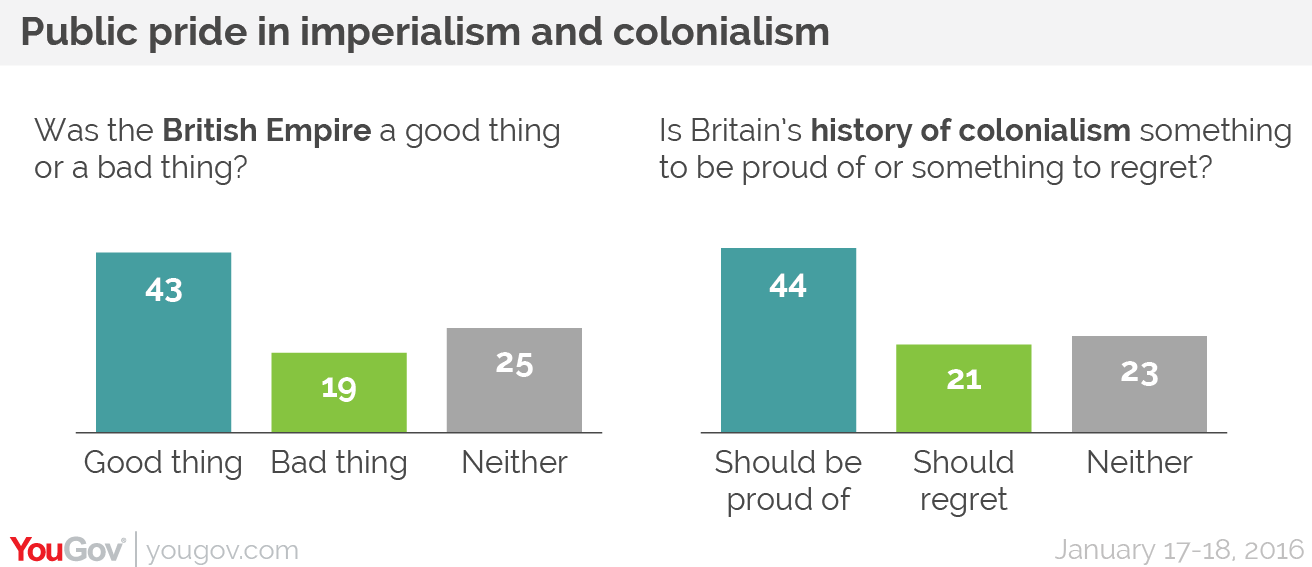 50% of
UKIP voters and 37% of Conservative voters say Britain tends to view our history of colonisation too negatively – we talk too much about the cruelty and racism of Empire and ignore the good that it did. Young people (40%) and Labour voters (43%), on the other hand, are more likely to say we view our colonial history too positively, suppressing the cruelty, killing and injustice that went on.
YouGov previously found, in July 2014, that British people tend to say the countries that were colonised by Britain are now better off for it (49%) rather than worse off for it (15%). And 34% even said they would still like Britain to have an Empire, while 45% said they would not.
This Guardian article pretty much nails it when it says (satirically):
"So, basically, nearly half the population thinks the Amritsar massacre, the concentration camps during the Boer war and after the Mau Mau uprising, the post-partition violence in India caused by uprooting 10 million people, and the four million deaths from famine in Bengal while Churchill diverted grain to British troops and other countries were – what? Dunno. Not things they knew about? The price of doing business? We did bring a lot of economic development to places, you know."
I've said it before and I'll say it again; Britain has a very self-centric view of the world that continues to elevate it and its people as 'civilisers', 'heroes' and 'saviours', and traditional 'British' values, culture and norms as an ideal global standard.
Throughout history this 'British Empire State of Mind' and resulting actions has led to the suffering of people the world over, the pilfering of resources and the destruction of our planet. The result today is this: globally we are witnessing increasing political and economic inequality and borders that are closed to people but open to money, and at home in the UK there is a pervasive and growing fear of immigration and xenophobia and racism.
Beliefs like these are exactly the reason why I'm working with a group of people to run a series of interviews and events to challenge this mentality, and why it's more important than ever to Rethink the British Empire State of Mind. If you agree, please join us. Get in touch via the Contact page or on Twitter @devtruths.
You can read the full YouGov press release here.
What do you think? Do these results surprise you? Do you agree with the 44 per cent of people surveyed who believe colonialism was a good thing?